Take advantage of your stay in the Vendée to discover the charm of the Ile de Noirmoutier
By the bridge or the Gois, walk, cycle or ride through the salt marshes and the salt huts that line the roads: you can find fleur de sel, coarse salt, samphire…
Museum of Popular Traditions, Butterfly Island, Donkey House, Boat Cemetery, Museum of Shipbuilding… You can see that by staying in our campsite near this island, you will have many treasures to discover!
Treat yourself to a discovery stay in our campsite near the Ile de Noirmoutier
The island is located in the Bay of Biscay; at low tide a causeway called "Le passage du Gois" connects it to the town of Beauvoir-sur-Mer.
The biggest feature of this island is that a third of it is covered by salt marshes – making a very impressive photo. This small island offers a great diversity of landscapes, fine sandy beaches, pretty coves, wild paths and narrow streets.
The Goi: a causeway that can only be used at low tide.
Where to go on the island?
This small Vendée island is full of places rich in history.
You will discover a historic centre dating from the 17th century with a church that was used as a prison during the Vendée wars, a listed castle, the Banzeau district which is the oldest on the island and of course the port of Noirmoutier with its nature reserve, its salt marshes and its wilderness as far as the eye can see.
There are many sites to discover here and you can even enjoy a good meal in a restaurant by the water.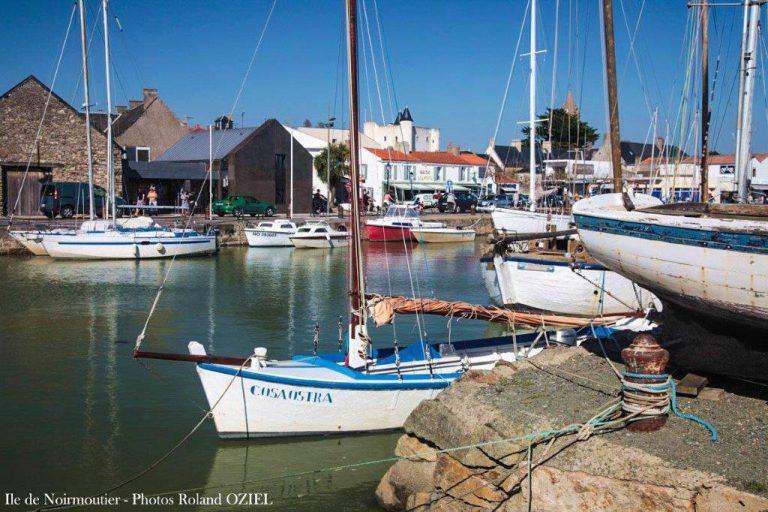 What to do on the island?
Whether with a partner, friends or family, the Ile de Noirmoutier has postcard beauty and fun activities to keep you entertained. Tour the island by bike or on foot, stroll through the old streets or breathe in the sea air while lounging at Anse Rouge, a pretty little beach. If you like activities on the water, you can try tubing, paddleboarding, sand yachting and many other equally fun activities.
Did you know? A unique curiosity in the world, the Gois was for a long time the island's only umbilical cord with the mainland, until the construction of a bridge in 1971.