100% nature activities
Only 15 minutes from your campsite, the Lac du Jaunay invites you to enjoy the open air in complete tranquillity in a pleasant setting, suitable for the whole family.
By bike or on foot, come and discover the surroundings of the lake, taking a trail of more than 13 km, in the heart of a diverse landscape.
Along your walk, the fauna and flora are revealed to the curious, and the observatory footbridge located at Rochelles Mill, is an ideal place to observe the wildlife. You may be lucky enough to spot a few green tree frogs, grey herons, kingfishers, otters or tawny owls.
Choose your boat and glide along the water
From the Baudrière pontoon or from Le Pré, you can opt for a short canoe or pedal boat trip for 2 to 6 people, at special rates on presentation of your L'Évasion campsite bracelet or brochure stamped by the campsite.
This is an opportunity to spend a pleasant time with family or friends, on the more than 16 km of waterways.
To make the most of your day, why not have lunch while you're there? Bring a picnic and enjoy a short break in one of the picnic areas, or go to the Auberge du Jaunay, ideally located facing the lake, at Le Pré.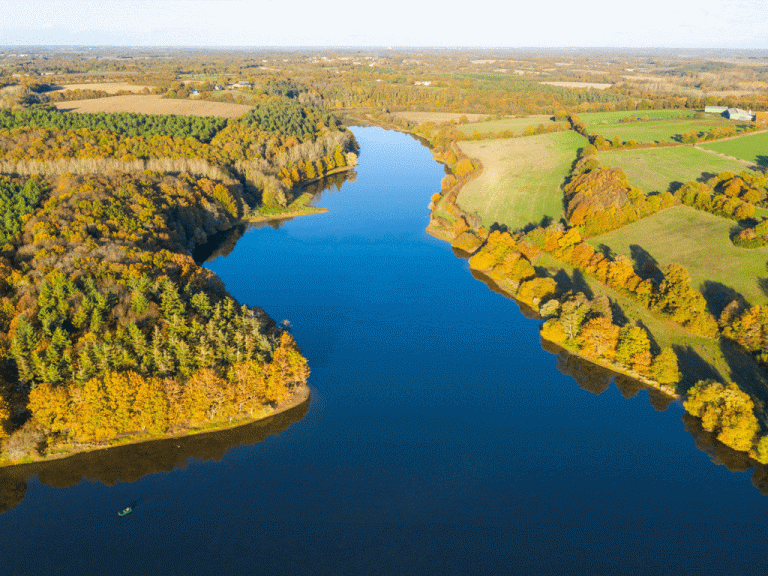 Fishing enthusiast
Fishing enthusiasts can enjoy this activity all year round. Pike, pike-perch, carp, perch and other fish are there on this exceptional site. A shared area has been created at the Baudrière to allow families and people with reduced mobility to practice their leisure activities in complete safety, and nearly 9 km of trails are open for night carp fishing enthusiasts. If you don't have a fishing card, you can easily get one at the tourist office or at the "Le Lagon" café in Landevieille.
Geocaching
You can also enjoy a more playful visit by geocaching. This unusual activity consists of using GPS coordinates to search for or hide a treasure, and will send you around the lake on the trail of the White Admiral butterfly. The pleasures of hiking, playing and discovering are combined in this modern-day treasure hunt. And if you like this activity, you can find it at many sites in Vendée!
Good to know: You can get a Jaunay Valley Tourist Card all year round from the Pays des Achards Tourist Office.