The 50-hectare Puy du Fou Park takes you on a journey through time. Discover around 20 spectacular shows during the day and at night, and 4 themed villages (the Year 1000 Fort, the Medieval City, the 18th century Village and the 1900's Village) featuring artisans. The park offers you the opportunity to immerse yourself in different eras as you stroll through.
Our campsite near Puy du Fou is ideal for an unforgettable stay with family or friends!
An unforgettable day
Voted best park in the world and best park in Europe, Puy du Fou park is a must during your stay in the Vendée!
From show to show, across the centuries.
You will discover shows featuring professional actors and stuntmen, who will plunge you into the hell of gladiatorial games, into a Romanesque and romantic epic in the age of the knights or into an epic at the time of the Vikings!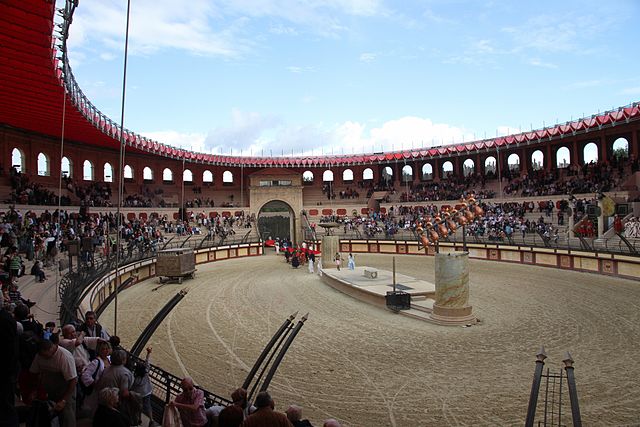 A unique experience, only 75 minues from L'Évasion campsite!
Ideally located, our campsite near the Puy du Fou is the perfect location for a wonderful holiday!
Good to know
The different show schedules are available every day on the official Puy du Fou website. The day before your trip, be sure to plan your schedule so you don't miss out! In fact, one day is often not enough to go to all the Park's shows. Our tip: set priorities!
Tickets are on sale at campsite reception. Tickets for the Cinescénie are on sale on the Puy du Fou website. To get your tickets, we advise you to book very early in the season.
Each show has several performances per day.